High Quality Lawn Care & Landscaping in Reston, VA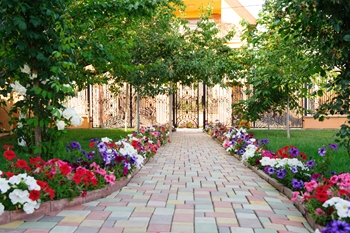 If you are like many homeowners out there, you might be wondering what it is exactly that differentiates one Reston landscaping professional from another. There are certainly a lot of them out there, and if you wind up hiring the wrong one, you could easily find yourself with a finished project that looks nothing like what you first envisioned when you made the call. There are a lot of factors that go into finding the right landscaping and lawn care pro in Reston, VA, ranging from dependability, responsibility, and even the final results that they deliver in their work. When you are looking for the best in all three, the only name you need to know is Earthworks. Our team of Reston landscaping and lawn care professionals have the skill, training, and experience necessary to ensure that your next landscaping project is done exactly to your specifications, and we guarantee your satisfaction with our service 100%.
Here at Earthworks, our team of experienced landscaping and lawn care pros have been providing their quality service to local homeowners for over twenty years, and we have no intention of slowing down anytime soon. There is a lot more that goes into a high quality landscaping project than just laying down a little bit of sod, and when you hire us for the job, you can always rest assured that we understand what that is. If you have any questions about our full line of professionals landscaping and lawn care services, or if you would like to schedule an appointment for consultation, give us a call. Our team of experts are always standing by and would be more than happy to assist you in any way we can.
Landscape Design & Installation in Reston, VA
When it comes to your landscaping, it should always be an attractive and healthy part of your home, and there is no one better suited to the job of ensuring it is than our team of Reston landscape design and installation specialists here at Earthworks. Whether you are looking to revamp your home's old landscape, update a few things here and there, or you are looking to create something entirely new, our team of experienced professionals have the skill and experience to see the job through and make sure it gets done right. We will work with you directly to ensure that you get exactly what you are looking for from your home's new landscape, and provide you with the care to ensure you and your family are able to enjoy it for many years to come.
If you are looking for a company that does quality lawn care and landscaping in Reston, VA then please call Earthworks at 703-359-1487 or complete our online request form.