Hardscaping Design Fairfax, VA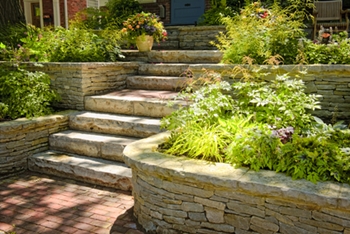 If you are looking for a surefire way to add value to your property, adding hardscaping elements to your landscaping is one of the best ways to do so while adding function and improving your property overall. Here at Earthworks, our full line of professional hardscaping services are designed to help you make your landscaping and garden areas more attractive, healthy, and functional for you and your family. Our team of Fairfax landscaping professionals have the skill, training, and experience to provide you with all of the high quality hardscaping services you need to make the most of your property, and we can personally guarantee that your work with be done to the highest standard and done completely to your full satisfaction.
Here at Earthworks, our team of landscaping professionals are fully committed to providing each and every one of our customers with the highest quality landscaping and hardscaping services possible. We offer a full range of design and installation services for a number of different hardscaping elements and project types, and we will work with you directly to create the custom hardscaping elements you need to transform your landscaping into what you've always dreamed it could be. If you have any questions about our full line of high quality landscaping services, or you would like to schedule an appointment for consultation with one of our hardscape design experts, give us a call today. Our team of experts are always standing by and would be more than happy to assist you.
Installing Patios, Retaining Walls & More in Fairfax & Surrounding Areas
When you are looking for a great way to get rid of unwanted slopes on your property, or just to enhance the overall aesthetics of your property, brand new paver patio or stone retaining walls could be just the option you've been looking for. Our team of professional hardscaping professionals will work with you to determine exactly what you are hoping to accomplish with your new patio or retaining walls, and come up with a design that addresses all of your issues and concerns completely, leaving you with the exceptional looking garden space that you've always wished you could have.
If you are looking for a landscaping company that installs hardscaping in the Fairfax area, please call Earthworks at 703-359-1487 or complete our online request form.
Recent Articles