Tree Services Fairfax, VA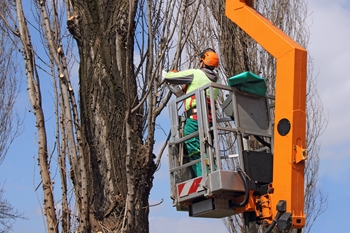 When it comes to caring for the trees on your property, there a about a million different important reasons to do so, and absolutely zero benefits to putting it off. When you find yourself looking for professional tree services in the Fairfax area, and don't know who to call, all you have to do is pick up the phone and call in the landscaping experts at Earthworks. Our team of Fairfax tree care specialists have the skill and experience to help you keep your trees healthy and looking their best at all times, so give us a call today and let us show you the difference that quality care can make when it comes to your property's trees.
Here at Earthworks, our team of tree care professionals have over twenty years of experience in providing our high quality landscaping services to homeowners all through the Fairfax area. We understand all of the nuances that go into maintaining the trees on your property, and we guarantee that you will be 100% satisfied with the results of your service. If you have any questions about our full line of tree care services, or you would like to schedule an appointment for consultation with one of our specialists, give us a call today. Our team of experts are always standing by and would be more than happy to assist you in any way we can.
Fairfax Tree Care Specialists
Taking care of your property's trees is a vital part of keeping your property looking great at all times. Despite how self sufficient they might seem, the trees on your property require care from time to time to stay healthy, and there is no one better suited to helping you with the task than our team of experts here at Earthworks. Whether you are looking to have your trees trimmed back to let more light onto your lawn or to protect the roof of your home, or you are looking to have dead trees removed so that they can't affect the health of your other trees, our team of professionals have the skill and experience to see the job done. Call us today to learn more about your tree care options, such as trimming, pruning and more.
If you are in need of tree service in the Fairfax area, please call Earthworks at 703-359-1487 or complete our online request form.
Recent Articles