Landscape Lighting Installations Fairfax, VA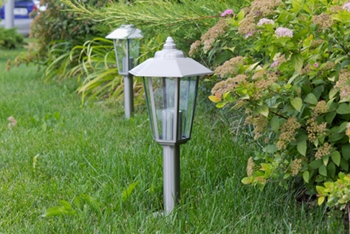 If you are like many homeowners out there, you might not realize all of the numerous benefits that can be obtained from investing in high quality landscape lighting for your property. If you have toyed with the idea of adding new landscape lighting to your home, but just don't know who to call to help, you can always count on the team of professional landscaping specialists at Earthworks. Our team of experienced landscapers are highly experienced and trained, and know what it takes to provide you with the exceptional landscape lighting you need to bring your home's landscape to life. Adding landscape lighting to your property can be a somewhat difficult process, and is something that is always better left to the professionals. By hiring a professional to assist you with this service, you can rest assured that you are always going to wind up with the results that you want instead of a lighting design disaster.
Here at Earthworks, we have been providing Fairfax area homeowners with the high quality landscaping services they need to make the most of their property for over twenty years. Our team of experts work to provide you with the finest results possible because they work with you directly to design and implement a custom outdoor lighting solution that is perfectly suited to your particular tastes and exterior lighting needs. If you have any questions about our full line of landscape lighting services, or if you would like to schedule an appointment for consultation with one of our specialists, give us a call today. Our team of experts are always standing by and would be more than happy to assist you in any way we can.
Expert Landscape Lighting in Fairfax & Surrounding Areas
There are a number of different benefits that high quality landscape lighting can bring to your home, one of which is the measure of security that it can provide you. Exterior lighting on your home removes many of the dark spaces on your property that criminals can use to hide and access your home, meaning that they will be more likely to move on to an easier target. In addition, landscape lighting can also be used to highlight particular aspects of your home's landscape. This can be used to uplight or downlight certain hardscaping aspects, line walkways, or just provide tasteful accents for areas of your property that you are particularly proud of.
If you are in need landscape lighting installation in the Fairfax area, please call Earthworks at 703-359-1487 or complete our online request form.
Recent Articles