Lawn Fertilization Services Fairfax, VA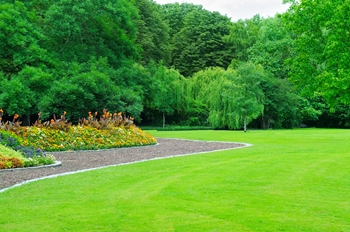 When it comes to establishing and maintaining a healthy lawn for your home, finding the right landscaping professional to help you take care of your lawn fertilization needs should be one of your top priorities. When it comes to high quality landscaping fertilization services in the Fairfax area, smart homeowners know that they can always depend on the top of the line service from the experts here at Earthworks to help them keep their lawn and landscaping looking their best at all times. Here at Earthworks, our fertilization services don't just consist of us showing up, sprinkling a little bit of fertilizer, and calling the job done. We customize your lawn fertilization service program based on the particular needs of your lawn's type that produce the best chances for your lawn to thrive for many years to come.
Here at Earthworks, our team of professional Fairfax landscaping experts know that there is a bit more to the process of fertilizing your lawn and prepping it for success than many people understand. The soil conditions, type of grass, and a number of other factors all play a very important role in the success of your lawn, and our team of experts take all of these into account when designing your lawn fertilization service. Your landscaping professionals should never fall back on utilizing a lawn fertilization plan that relies on generic fertilizers that might or might not be meant for your particular type of grass. Here at Earthworks, you can always count on our team of professionals to help you create and implement the perfect lawn treatment plan that gives your grass the best chance of success.
Fairfax Lawn Care Experts
When it comes to top-of-the-line lawn fertilization plans, the only name in quality that you need to know is Earthworks. Over our twenty years of providing landscaping services to the local area, our name has become synonymous with quality landscaping results that you can count on to last. We have a reputation for honesty and dependability in all of our dealings with our customers, and we look forward to having the opportunity to work with you in creating the perfect landscape for your Fairfax home.
If you are looking lawn fertilization services in the Fairfax area, please call Earthworks at 703-359-1487 or complete our online request form.
Recent Articles