Landscape Lighting That Suits Your Manassas Home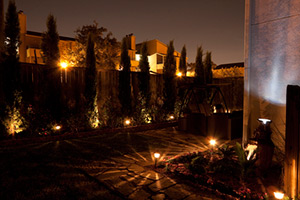 Outdoor lighting is often taken for granted by homeowners with sufficient illumination during the dark hours of the night, but if your Manassas home isn't well-lit, you probably know the safety and security concerns associated with darkened driveways, steps, and entryways. A landscaping specialist can help you select attractive landscape lighting fixtures that will meet your household's needs.
Step Lights
Having illuminated pathways and stairways is crucial to the safety of your family and guests. If your steps aren't well-lit, hire a landscaping contractor to install LED path or step lights to improve visibility. LED lights are often used on outdoor steps because they're constructed into tubes or short shapes that suit steps and pathways.
Post Lights
Homeowners often select post lights because they add a bit of character to lawns. Post lights involve lights that are mounted to railings, posts, or poles at a range of heights, and they're available in a variety of styles and finishes. Consider placing a post light near your driveway to illuminate this area of your property.
Security or Flood Lights
As a homeowner, the security of your family and property is probably on your mind. Security or flood lights may be your solution to a darkened lawn because they're high-intensity broad-beamed lights that brighten large areas. You can even pair security lights with motion sensors so that the lights are activated when movement is detected. Some security lights are operated manually with a switch, and dusk-to-dawn lights turn off when the sun rises and turn on when the sun sets. If you want to install security lights, select ones with high wattage bulbs so that they don't illuminate beyond their designated areas or cast deep shadows. You can choose smart security light features like camera connections, app controls, and wireless setups.
Wall Lights
Another outdoor lighting option involves wall lights, which can be installed by your landscaping contractor near stairways, walkways, and recessed areas. Wall lights should include soft, low-wattage bulbs. These lights are popular because they eliminate shadows, increase visibility, and lower the risk of trip hazards. Wall lights are directed downward so that the ground below is brightened, and they're often used as decorative elements on exterior walls because their finishes, colors, shapes, and materials can be personalized.
Ceiling or Pendant Lights
Hanging ceiling-mount or pendant lights can illuminate landscaping features such as entryways, porches, and gazebos, and many homeowners install them in outdoor seating and dining spaces.
If landscape lighting such as wall, step, or security lights interests you, contact the landscaping experts at Earthworks to select outdoor lighting for your Manassas home and to schedule a landscape lighting installation.
Do you want landscape lighting in Manassas, VA? Call Earthworks at 703-359-1487 or complete our online request form.