High Quality Lawn Care & Landscaping in Clifton, VA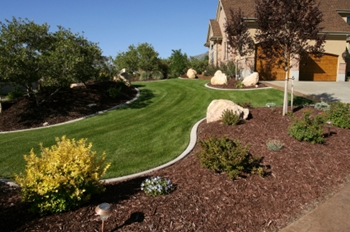 Here at Earthworks, we understand how important your landscape and lawn are to you and your family. Your Clifton landscaping not only serves as an important part of your home's overall aesthetic, but it also services as a source of enjoyment and relaxation for you and your family. If you aren't crazy about your home's currently landscape setup, or you have just always wanted to help your home reach its maximum potential with a brand new, high quality landscaping project, there has never been a better time than now, and there has never been someone better suited to helping you with the task than our team of experienced landscaping professionals here at Earthworks. Our team of professionals are completely dedicated to helping you keep your home's landscaping in the best condition possible at all times, and our full range of landscaping and lawn care services in Clifton, VA are designed with that goal in mind.
Here at Earthworks, our team of professionals have been providing homeowners with the high quality landscaping and lawn care services they need to keep their home's looking their best for over twenty years now, and during that time, we have earned a reputation for ourselves as a company that always has your landscaping goals at the top of our list of priorities. Our team of professionals strive to deliver you the best in quality workmanship and results in each and every service we are called on to perform, and we never sacrifice quality for the sake of speed. Give us a call today if you have any questions about our full line of professional landscaping services, or if you would like to schedule an appointment for consultation. Our team of landscaping experts are always standing by and would be more than happy to assist you.
Landscape Design & Installation In Clifton
No matter how big or small your home may be, you always want your landscape to be a healthy and attractive part of your home's overall design and aesthetic, and our team of professionals are here to help you achieve that goal. Whether you are looking to create something brand new for your home's landscaping, or you are just looking to update or replace areas of your existing landscape, our team of professionals have the skill and experience to see the job done. We will work with you directly to make sure that every aspect of your project goes according to your plan, and provide you with a finished product that will leave you and your family in awe.
If you are looking for a company that does quality lawn care and landscaping in Clifton, VA then please call Earthworks at 703-359-1487 or complete our online request form.