Manassas Lawn Care and Landscaping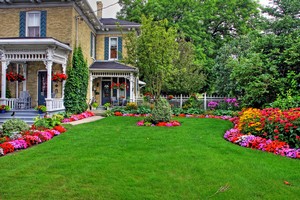 Your home is an extremely important part of the lives of you and your family, and your landscape is an integral part of the appearance and health of your home. At Earthworks, we understand how important it is to keep your landscape in great shape, so we offer a number of landscaping services, and we always strive to provide the highest quality workmanship possible to all of our clients. Our team of experts Manassas landscaping contractors will be able to keep every of your landscape in the best condition possible.
All of our landscapers are licensed, trained, and experienced, so you can depend on us no matter how large or small the services you need are.
Cal us today to schedule your landscaping services, and we'll be looking forward to working with you.
Landscape Design and Installation in Manassas
At Earthworks, it's our goal to help you bring the landscape of your dreams to reality. We start every job by discussing the goals that you have for this project with you, then we design a landscape that's tailored to those goals, your home, and your tastes. We'll do whatever it takes to create a landscape that the perfect addition to your.
We'll always offer you our professionals advice and opinions, but we'll leave all of the final design decisions up to you. Our goal is your complete satisfaction, and we'll do whatever it takes to achieve that while providing you with the best landscape possible.
Manassas Hardscaping
Adding hardscaping features to your home's outdoor areas can help you create a distinctive environment that adds both aesthetic and functional value. Whether you're adding a walkway or an outdoor kitchen, our experts can help you with every aspect of the job, and we can guarantee excellent workmanship and high quality materials. We'll work with you directly to design your new hardscaping features and make sure that they're the perfect addition to your home and its landscape.
Recent Landscaping Articles
If you're looking for a landscaping contractor in Manassas, Call Earthworks at 703-359-1487 or complete our online request form.