Snow Removal FAQs For Fairfax, VA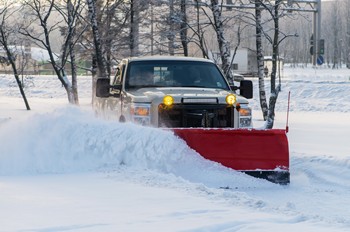 The first snow storm of the season in Fairfax happened back in early December this year. Winter is indeed upon us and more tons of snow will have to be removed from roads, highways, sidewalks, and walkways.
Both business owners and homeowners in Fairfax have to regularly remove snow or their properties become inaccessible and slippery. Snow turns into hard ice very quickly after it's trodden down, so removing it is a necessity.
Snow removal can be as troubling for a homeowner as it is a business owner, especially when trying to make sure the property is safe and ready for customers or family holiday visits.
But still, we need to stay on top of snow plowing and deicing before it becomes a hazard. The problem is that snow removal is a lot of hard work that not everyone has time for or the equipment and physical ability to do. The better option for these individuals is to get help from a snow and ice management professional.
Snow removal has to be done by just about everyone during winter, and some are required by law to get it done. Do you know the snow removal laws in Fairfax?
What Are The Fairfax County & City Snow Removal Ordinances?
City of Fairfax
The city of Fairfax clears the public streets inside the city limits. They remove snow all day, every day until the streets are clear and safe. They plow the primary routes first and then move on to subdivision streets. You can call the Snow Command Center, 703-385-2629, to report snow or ice problems on city streets.
County of Fairfax
County roads are taken care of by The Virginia Department of Transportation, not Fairfax County (they do plow a few roads within the county but mostly focus on public service properties like libraries and fire stations). You can visit www.fairfaxcounty.gov and look for their winter weather guide to view their VDOT Plowing Map to check the status of your road. VDOT plows most primary roads, interstates, snow emergency routes, heavy traffic roads, and other secondary roads and residential streets.
Private Roadways
Private streets, driveways, parking lots, and walkways are the responsibility of the property owner. It really does take everyone to clear snow and ice across our 400 square miles of country. While there are no legal obligations for private property owners, some homeowner association and landlords will require the community to clear the private drives and walkways.
How Often & When Should I Remove Snow?
The main purpose of removing snow is to keep it from turning into ice on horizontal surfaces. You should clear driveways, walkways, and entryways as soon as you can after a snowstorm. Snowstorms can strike at any time, so monitor the weather and plan to remove the snow following a storm. Remember, the key is to control snow so it doesn't turn into a sheet of ice.
In general, snow should be cleared within 6 hours after the last snowfall. If there's a blizzard, it's better to remove snow several times during the storm as well as after. Earthworks is your choice for reliable and professional landscaping services.
For more information about Snow Removal service in Fairfax, VA, please call Earthworks at 703-359-1487 or complete our online request form.