3 Benefits Of Adding Hardscaping To Your Property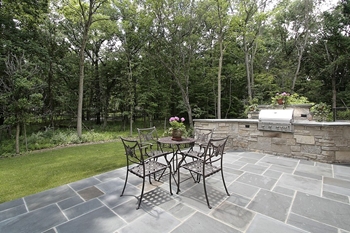 If you are looking for a new landscaping project to undertake, but aren't quite sure what to go with, it might be time to start considering all of the benefits of adding hardscaping to your property. Unlike a softscape like grass or plants, a hardscape generally makes use of concrete, stone, walls, fencing, or a number of other features to enhance the aesthetic beauty of your home's outdoor spaces while also providing you with a number of functional benefits.
If you think a new high quality hardscaping project could be something your property could benefit from, but just aren't entirely sure yet, take the time to read through this short list of some of the primary benefits that can be yours when you call in our team of professionals here at Earthworks for your new, high quality hardscaping project.
Create An Outdoor Living Space
If you are like most homeowners all across the country, you enjoy being able to step out and enjoy your home's outdoor spaces from time to time, and having a high quality outdoor living space can take this relaxation to the next level. No matter if you have a tiny backyard, or a whole acre to work with, the right hardscaped outdoor living space can seamlessly connect your home's interior and your outdoor areas into the same extended living space. There are a number of different ways to do this, from adding a new flagstone patio, to installed a complete outdoor kitchen, or just adding some new pergolas, retaining walls, or a natural stone fire pit. There is literally an option out there for everyone.
Increase Your Property Value with Hardscaping
Just like a beautiful landscape can bring a new level of curb appeal to your home, a high quality hardscaping project provides you with a more permanent and stunning addition to your home that won't die out over the course of the seasons. If you make the decision to sell your home in a few years time, you can count on the fact that your new hardscaping feature will provide you with an attractive, permanent fixture that will keep the value of your home high.
Low Maintenance Style
As a homeowner, you are no doubt aware of the continued care that goes into ensuring that your landscaping project continues to look as good as the day it was first installed. Between mowing the lawn, making sure that your newly installed trees are properly care for and trimmed from time to time, and caring for your new garden, the summer months can provide you with a number of different tasks that you have to juggle. With hardscaping projects, however, there is no need to put in that kind of time, as your project will continue to look as good as the day it was first installed for a long time to come with very little in the way of maintenance. Making the choice to take out that area of grass and replace it with a brand new stone paver patio will provide you with a great looking, low maintenance space that you and your family can enjoy this summer.
Interested in starting your own hardscaping project in Fairfax, VA? Call Earthworks at 703-359-1487 or complete our online request form.