High Quality Lawn Care & Landscaping in Oakton, VA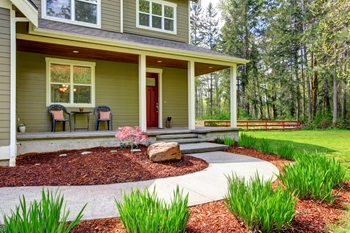 When the time comes that you find yourself in need of a Oakton landscaping and lawn care professional that you can trust to deliver you the highest quality care, the only name you need to know is Earthworks. Here at Earthworks, we have been providing our exceptional quality landscaping and lawn care services to homeowners all throughout the local area for over twenty years, and we have no intention of stopping anytime soon. Each and every one of our specialists are highly skilled, trained, and experienced in the field, and we know what it takes to ensure that you get the high quality care your home's landscaping needs to look its best each and every month out of the year. Give us a call today and let us show you the difference that quality can have on your home's next landscaping project.
Here at Earthworks, we are the Oakton area's leading provider for high quality landscaping and lawn care services. No matter how simple or complex your next project might be, our team of experts have the skill and experience to handle it and deliver you the exceptional results that you've always dreamed about. Whether you are looking to create a new landscape for your home from the bottom up, or just looking to replace or renew certain things about your current landscape, our team of professionals are up to the task. If you have any questions about our full line of professional landscaping and lawn care services, or if you would like to schedule an appointment for consultation, give us a call today. Our team of experts are always standing by and would be more than happy to assist you in any way we can.
Landscape Design In Oakton
When it comes to updating or redoing your Oakton home's landscaping, you never want to entrust the work to someone who is going to go into the project with anything less than a concrete plan in place. That is an easy way to ensure that things get overlooked, or certain aspects of the job don't get done correctly. When you entrust your landscaping project to the Oakton landscape design pros here at Earthworks, this worry can be a thing of the past. Our team of experienced professionals will work with you directly to get a firm plan in place before any work begins to ensure that everything is just the way you want it. Having this plan in place also helps to ensure that everything stays true to your design throughout the installation process. When you are finally ready to make the investment in the landscape of your dreams, you can always count on the landscape design and installation professionals at Earthworks to help you turn your vision into a reality.
Recent Articles
Snow Removal FAQs For Fairfax, VA - The first snow storm of the season in Fairfax happened back in early December this year. Winter is indeed upon us and more tons of snow will have to be removed from roads, highways, sidewalks, and walkways. Both business owners and homeowners in Fairfax have to regularly remove snow or their properties become inaccessible and slippery. Snow turns into hard ice very quickly after it's trodden down, so removing it is a necessity… Read MoreRead More


3 Tips For Keeping Your Trees Healthy This Spring - It is always a good idea to make sure that you stay on top of the various types of seasonal tree care as this is one of the best ways to ensure that your trees are able to remain healthy. To help you in this endeavor, our team of Fairfax landscaping and lawn care professionals here at Earthworks have taken the time to put together this short list of three simple steps you can take this spring to make sure that your trees get the care they need to help them get a great head start this growing season … Read More
If you are looking for a company that does quality lawn care and landscaping in Oakton, VA then please call Earthworks at 703-359-1487 or complete our online request form.